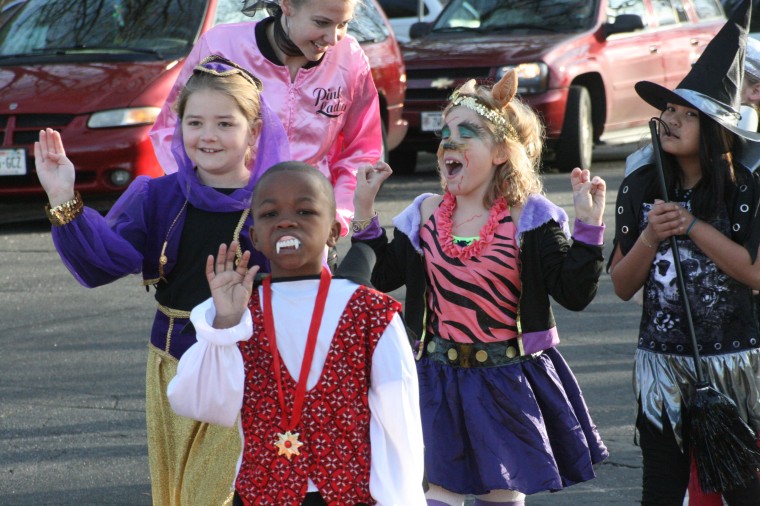 On Friday, October 31 we will be having our annual Halloween Parade and class activities. Our parade is scheduled to start at 9 am with the hope that the students will make their way outside onto the playground around 9:15 am. We invite all our parents and family members to join us out on the playground for the parade. Our students will exit the building by the kindergarten doors and circle the blacktop. Please bring your chairs or blankets and enjoy the show. If we have inclement weather, we will set up chairs for our parents inside the gym/cafeteria.
A few reminders regarding costumes and dress code:
No Masks will be allowed on the face. Students may bring their mask and place it on top of their head if they choose. Face painting is appropriate. (Remember one of the purposes of this parade is to SEE our students. If they have a mask or hood on that covers their face, we are unable to recognize the student.)

No weapons, replica or facsimile

of weapons should come to school as part of the costume.

Costumes need to be dress code appropriate.
We would also like to thank our PTA and Room Representatives for providing treats and activities for the afternoon class celebrations.
No School October 16 & 17
Enjoy your break and we will see everyone back on Monday, October 20, 2014
Check out these tutorials that show how to access student accounts and information! These are all tools used at school and can be easily accessed at home.
Thursday, October 9th
6:30 PM-8:30 PM
Jordan High School Gymnasium
This event is sponsored by the Canyons Region 17 PTA
All constituents in the Canyons District are welcome
What to expect: An informal meet and greet with candidates running for election in federal, state, county, and local elections
There will be no formal speeches made by candidates
This is an excellent opportunity to meet candidates and ask questions!
Please come and invite your neighbors, great activity for the whole family!
Light Refreshments
More Articles...