Dear East Sandy families-
We are excited to launch another year at East Sandy!  Teachers are back and preparing for your child to start on Monday August 21st.  This year's motto is "Always keep the spirit of a mustang!"

Below is important information and updates in procedures for the 2023-24 year.


Important Information
Morning drop off and before school procedures-
With the increase in safety precautions statewide, we are making adjustments to morning drop off procedures. Please review the times and map below:
7:45 am – All students will enter the main doors
7:45-8:05 am – As students arrive, they will be directed to the cafeteria until dismissed to class.

Breakfast is available for purchase ($1.00/breakfast)

8:05 am – Students dismissed to classrooms to start the day
8:10 am – School Starts
8:15 am – Students marked tardy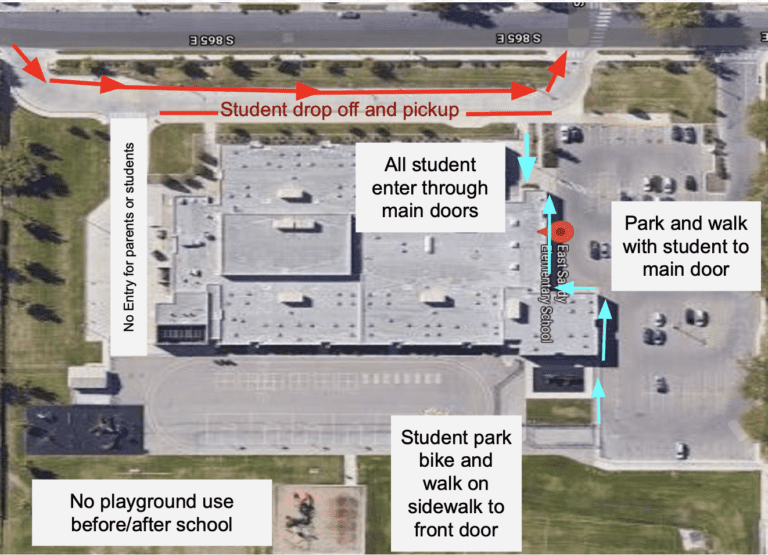 Upcoming  Dates
8/17 – Back to School Night 5:00-7:00pm ( See attached flyer)
8/21 – First Day of School
8/22 – KEEP Assessment Kindergarten Only
8/24 – First Day of Kindergarten
  9/4 – Labor Day No School
9/14 – Picture Day
9/27 – Parent Teacher Conference
9/28 – Parent Teacher Conference
9/29 – No School
Interested in Working at East Sandy?
Substitutes – click HERE to apply for substitute positions in Canyons!
There are opportunities to be an emergency sub @ $120 per day at East Sandy, regular substitute @ $140 per day, and licensed substitute at $165 per day.  We would love to have you join our team!  Reach out to Ms. Quick our head secretary, if you need further information.
17hr Instructional Assistant: Apply Here
35hr ABS Special Ed Aid: Apply Here
Nutrition Service Worker: Apply Here