Dear East Sandy families-
We had a great first day with students coming into the building through the main doors and going into the cafeteria!  There has been some questions on this change in procedure.  This change enhances security throughout the building by only having one entry point.  Additionally, it increases safety for your child by providing increased supervision as well as accounting for wild weather days. We cannot supervise your child on the playground prior to school starting.  We had every student in class starting instruction at 8:10am today. This maximized the amount of instructional minutes for your child.  I appreciate your patience as we adjust to this change.  Please contact me with any concerns you may have.


Below are maps and times for drop off and pick up.

This is the place to be!



Important Information
Morning Drop Off

7:45 am – All students will enter the main doors
7:45-8:05 am – As students arrive, they will be directed to the cafeteria until dismissed to class.

Breakfast is available for purchase ($1.00/breakfast)

8:05 am – Students dismissed to classrooms to start the day
8:10 am – School Starts
8:15 am – Students marked tardy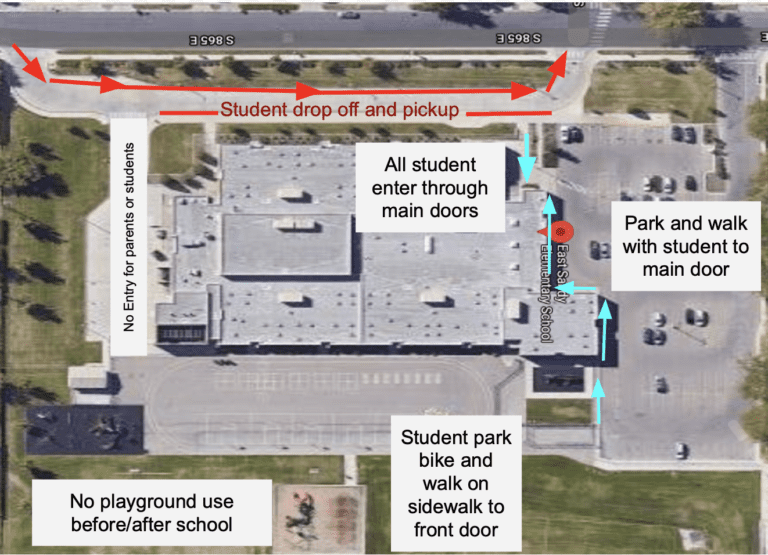 Afternoon Pick up: Students will be escorted out by teachers starting at 2:50pm.
Upcoming  Dates

8/24 – First Day of Kindergarten
  9/4 – Labor Day No School
9/14 – Picture Day
9/27 – Parent Teacher Conference
9/28 – Parent Teacher Conference
9/29 – No School
Interested in Working at East Sandy?
Substitutes – click HERE to apply for substitute positions in Canyons!
There are opportunities to be an emergency sub @ $120 per day at East Sandy, regular substitute @ $140 per day, and licensed substitute at $165 per day.  We would love to have you join our team!  Reach out to Ms. Quick our head secretary, if you need further information.
17hr Instructional Assistant: Apply Here
35hr ABS Special Ed Aid: Apply Here
Nutrition Service Worker: Apply Here