Dear East Sandy Mustangs,
It is unbelievable how fast summer has gone by! It was an exciting day at East Sandy! You might even say it was up-lifting. As we had a hot air balloon land in the back of the school. Check out the attached photo. I have a couple of things to share for this week so please check out the information below and important dates.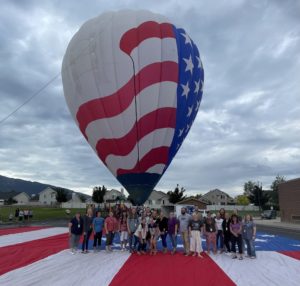 First Day Back for 1st – 5th Grade(August 15th):
Please come join us as we welcome our students back and cheer them on at our Red Carpet event on the black top out back. Please have your students to the school by 8:10am. All grades for the first day will line up in front of their teacher and we will announce every class to come in one at a time. Parents will not be allowed into the building with the students. We are also excited to announce that we will have an RSL player there to kick off the new school year!
First Day of Kindergarten(August 18th):
We are excited to do the same for our Kindergarten students on Thursday. Please make sure your students are at the school by 8:10 to line up with their teacher. Parents will need to stay outside and will not be allowed to enter with their students.
Breakfast and Lunch:
This is just a reminder that breakfast and lunch are no longer free for all this year. Please make sure that you have added money to your students lunch account if you plan on having them buy school lunch.
Breakfast is from 7:30am – 8:00am and costs 1 dollar.
Lunch costs 2 dollars and the times are different for each grade level.
Pick-up and Drop-off:
If you are dropping off your student in the front of the school please remember to pull all the way forward before letting them out of the car. If you drop off the students at the south end it will backup traffic onto the main street. If you plan on joining your student in the back of the school please park in the parking lot or on the main street and walk with them to the back of the school.
Mustang Days:
All students in 1st – 5th Grades will be participating in Mustang Days where the students will move around the school with their class to learn all of the rules and expectations for each part of the building. Kindergarten will be doing it on Thursday.
Emergency Substitutes:
We are undergoing a massive substitute shortage across the state and looking for your support. If you are interested in becoming a substitute for the district or just East Sandy please reach out to the main office and Jaralynn Quick can help you walk through the process. This would be a huge support!
PTA:
Thank you to all who joined us for Back to School Night and we can't wait to see you on the first day of school! Sign up to be a PTA Member today at the link below! See you on the Red Carpet!
https://eastsandyelementary.memberhub.com/store/items/399158
SCC:
We are looking for one more member to join our School Community Council this year. If you are interested or would like more information please reach out to Bryan Rudes at Bryan.Rudes@canyonsdistrict.org. More information about the first meeting will be coming out in next week's Mustang Message.
Important Dates:
August 15th – First Day of School for 1st – 5th Grade!
August 15th – 19th – 4th and 5th Reading Inventory Testing Window
August 16th – Mustang Days 1-3
August 17th – Mustang Days 4,5, and ABS
August 18th – Kindergartens First Day!
August 24th – Fire Dill at 10AM
August 25th – Acadience Testing for 3-5
Have a great weekend and we look forward to seeing everyone this week!
Sincerely,
Principal Rudes