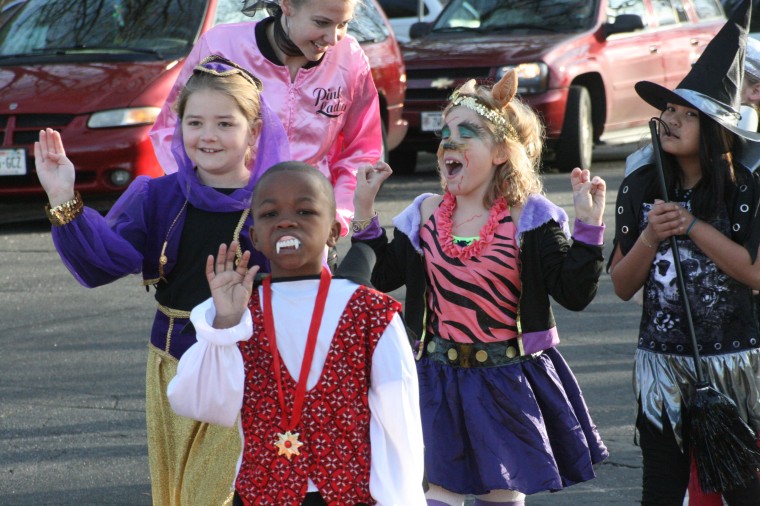 On Monday, October 31 we will be having our annual Halloween Parade and class activities. Our parade is scheduled to start at 8:45 am with the hope that the students will make their way outside onto the playground around 9 am. We invite all our parents and family members to join us out on the playground for the parade. Our students will exit the building by the kindergarten doors and circle the blacktop. Please bring your chairs or blankets and enjoy the show. If we have inclement weather, we will set up chairs for our parents inside the gym/cafeteria.
A few reminders regarding costumes and dress code:
No Masks will be allowed on the face. Students may bring their mask and place it on top of their head if they choose. Face painting is appropriate. (Remember one of the purposes of this parade is to SEE our students. If they have a mask or hood on that covers their face, we are unable to recognize the student.)

No weapons, replica or facsimile

of weapons should come to school as part of the costume.
We would also like to thank our PTA and Room Representatives for providing treats and activities for the afternoon class celebrations.
Today kicks off our annual No-Fuss Fundraiser. During October 5-19 weare asking each mustang to raise/earn $35. Our goal is to raise $15,000! Wow!! All proceeds come back to the school and our students.
Why do we need a fundraiser? This is a combined school and PTA fundraiser. PTA is requesting $9,500 to continue to support the school acitivities and programs. East Sandy is asking for $5,500 to purchase additional technology devices for our Engineering Brain Booster and to add some additional devices (IPADs/ Chromebooks) for our classrooms.
We appreciate your support in helping us reach our goal.
We invite all our mustangs to start NOW - thinking, creating and getting ready to participate in the 2016-2017 PTA Reflections program. Students have seven categories to choose from and they can enter something in all seven. Entries are due October 24, 2016.
Rules, Categories and Entry Form packet
More information on rules & categories can be found at www.UtahPTA.org/Reflections
More Articles ...